Top 10 Certified Magento Developers
The evolution of eCommerce industry is encouraging more and more businesses to set up highly-interactive online stores to promote and sell their products to their targeted web audiences across the globe. Today's new-age merchants and business leaders are shifting towards advanced trading technologies to grow their customer base and generate higher sales.
They are using Magento platform to create beautiful, responsive, and feature-rich eCommerce sites for their businesses. Its extensive range of tools, inbuilt features, and functionalities let them create a customize online store from scratch. Although it is a great eCommerce development solution, you may need the guidance of a professional Magento developer, especially if you want to launch your site on a large scale.
Below is the list of 10 best magento development companies from where you can hire the certified developer for your Magento store.
Let's get started!
1. MarkupHQ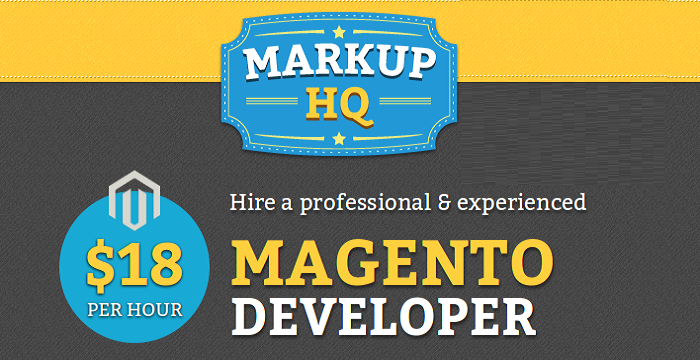 MarkupHQ is a reputed eCommerce development company offering a complete range of Magento solutions to meet their client's specific needs within a given time period. Their core Magento development team delivers W3C validated, fully responsive and customizable eCommerce solutions at the most reasonable price.
You can even hire the services of certified Magento developers who can make your eCommerce project stand out from the crowd by incorporating modern features, interactive designs, user-friendly shopping cart design and one-page checkout process with ease.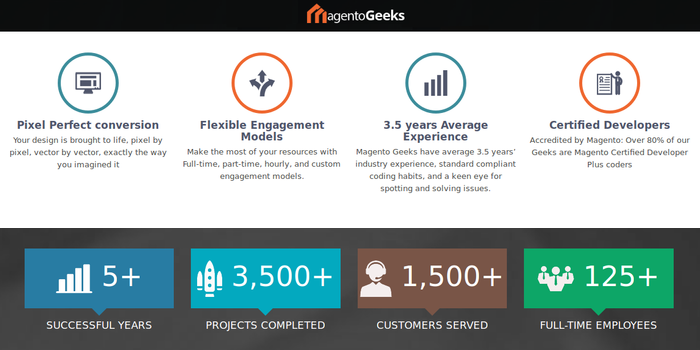 Hire a professional Magento developer from hireMagentogeeks if you want to boost the conversions and sales of your online store. The Company is armed with the dedicated team of developers and designers to help people create top-notch Magento web stores with ease.
They have a great potential of rendering customized Magento solutions to their clients at the most reasonable prices.
3. Rave Infosys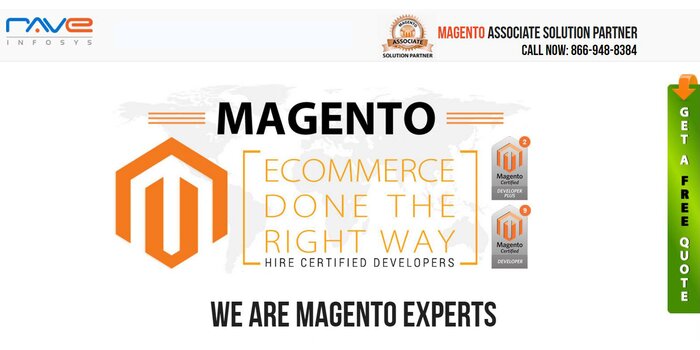 Rave Infosys is a leading web development company specializing in delivering customized Magento solutions at the most competitive price. They have a team of dedicated Magento developers, solution architects, designers, and programmers who are assigned to create responsive, feature-rich and fully-customized online stores for their clients. You can hire a certified Magento developer from Rave Infosys if you want to develop a technically-sophisticated high converting eCommerce site for your business. Their core Magento development team focus on creating a fully-fledged online store and can build a system POS integrations, multi-channel selling (eBay, Amazon), ERP integration, multiple warehouse management/WMS integration, shipping solutions, retention techniques, just to name the few.
4. OSS Media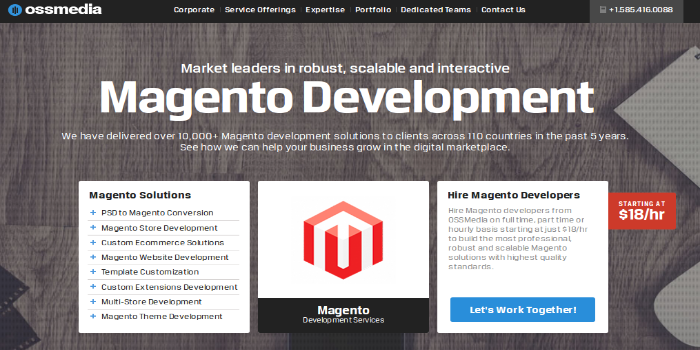 OSS Media is a renowned web development firm from where you can hire a certified Magento developer for your next eCommerce project. They serve an extensive range of Magento development solutions with advanced features to let you create a fully-customized web store that can enhance the brand value of your business with ease. Plus, their in-house developers have great experience of working with diverse clients across 110 countries.
5. HiTechITO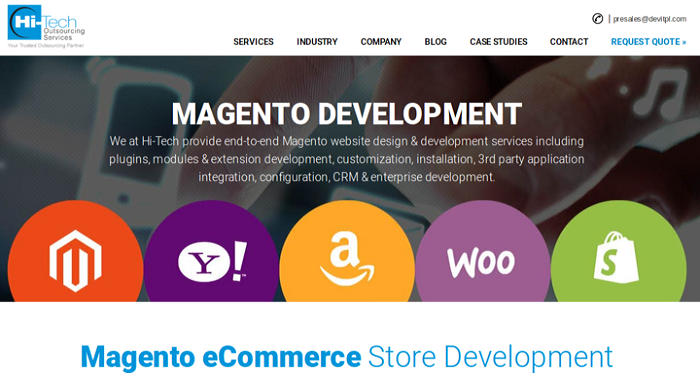 You can hire the services of Magento developers from HiTechITO for creating a professional-looking online store on Magento platform. They can help you develop a technically robust website for your web business on the fly.
Plus, they offer a ton of advanced features such as payment gateway integration, development of shopping cart, performance optimization capabilities for giving rich and seamless shopping experience to their potential we customers.
6. ValueCoders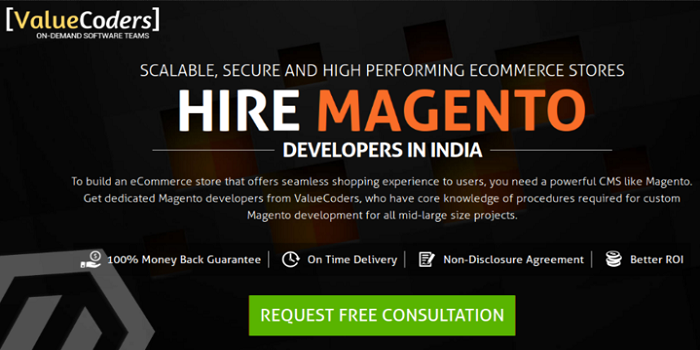 The company is armed with over 450 developers to help you develop professionally stable eCommerce site for your business. The Magento developers from ValueCoders have a good experience in developing and designing custom solutions for their clients to let them generate higher conversion rate, sales, and ROI quickly and efficiently.
You can hire a professional Magento developer to create a beautiful and functional web store for your business.
7. Clap Creative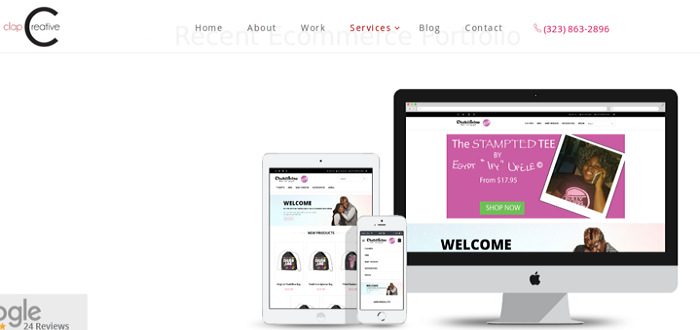 The Clap creative is a reputed web development organization, which is armed with a dedicated and experienced team of Magento developers and designers who work together to create top-notch eCommerce web projects for their clients. You can hire the Magento developer from Clap Creative for your eCommerce project – they will help you deliver the custom solution that can meet your unique business requirements with ease.
8. PlumRocket
PlumRocket is an ideal solution for small businesses who are looking for hiring a Magento developer for their web stores at the reasonable prices. They have a dedicated and professional team of web developers who thrive on building beautiful Magento store from scratch to meet their client's business requirements right from the day one.
9. PSD to Magento Developer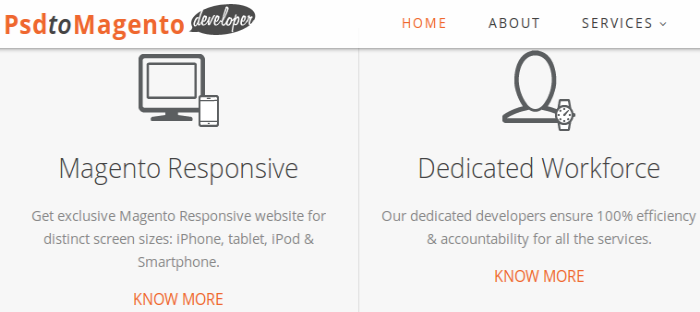 It is a one stop solution for offering the diverse gamut of Magento development and customization services to both the small as well as large-scale web businesses. The company is backed by a team of dedicated Magento developers who have a great experience of developing high-quality eCommerce solutions for their clients across the globe.
10. Customer Paradigm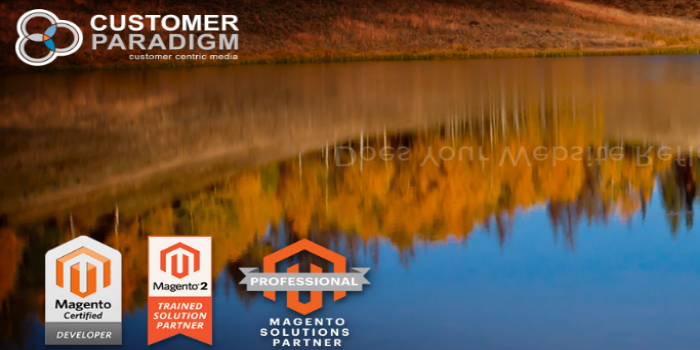 Customer Paradigm is a trusted eCommerce development company, specializes in installing, maintaining and updating Magento eCommerce shopping cart system of your web business. They are equipped with a core team of Magento developers who have ample years of experience in an eCommerce industry. You can choose this company if you want to hire a certified developer for your Magento web store.
Conclusion
All the companies mentioned above in this blog post are reputed and have great experience in developing Magento based eCommerce sites across the globe. These companies have a core team of Magento developers that you can hire according to your estimated budget and business requirement.