Top 10 Best Open-Source WordPress Theme Frameworks
Creating a website on WordPress means getting a great level of flexibility in terms of web design and functionality. You can develop a site by writing the code from scratch, tweak the ready-made theme or use a reliable WordPress theme framework. If you are a web developer, then you would love coding your site from scratch. But if you are a beginner, you should opt for a beautiful and interactive WordPress theme framework. Well, you can also customize the ready-made theme, but for that, you may need the assistance of WordPress theme customization tutorials.
Instead of this, you can opt for the WordPress theme framework that enables you to focus on the design of the site instead of coding. In simple words, Frameworks simplifies the process of web development, as most of the technical work is already done for you before you actually begin in real-time.
Although choosing the best option for a website becomes quite difficult if you have no idea about the latest web design trend. So, in this post, we would like to share the 10 best open-source WordPress Theme Frameworks that will help you create a professional-looking WordPress site in a matter of few minutes.
Let's get started!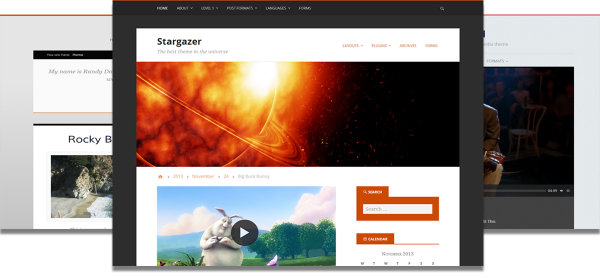 Hybrid Core by ThemeHybrid is an open-source theme framework for WordPress that lets you control the web design of your site with ease. Use this framework to build themes with heavy-lifting functionality without ever generating a single line of coding. It simply allows you to embed pre-coded features in your themes. And the best part is that it is compatible with Schema standards which will boost the data of your site on search engines platforms. Plus, it comes packed with a ton of developer-friendly features such as:
Media Grabber:

It lets you grab media directly from a post and can be used in multiple ways.
Breadcrumbs Script: It works on all kinds of pages, be it a custom post types or taxonomies.
Numbered Pagination: Build paginated links for a blog, archive and search pages that are more functional than other pages.
Easy to create custom templates for multiple post types.
Translation ready and much more.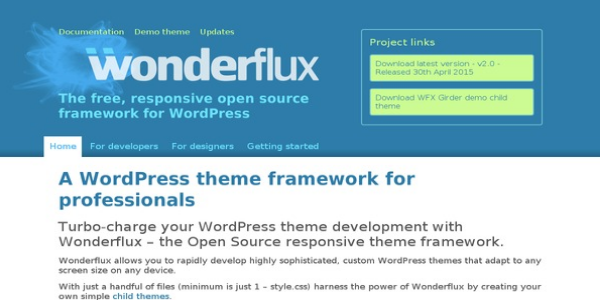 Instantly develop technically-sophisticated, responsive and fully-customized themes for your WordPress site using this robust WP theme framework. Wonderflux allows you to create your own beautiful and simple child themes within a few clicks. You can even customize the layout and specifications of your themes with ease – all thanks to its simple and intuitive user interface. Some of the exciting features of Wonderflux including:
100% Responsive CSS Layout System
Compatible with powerful WordPress plugins
Flexible Layout Options
It comes with over 100 hooks to let you add content as well as code into your theme with ease Valid Markup, etc.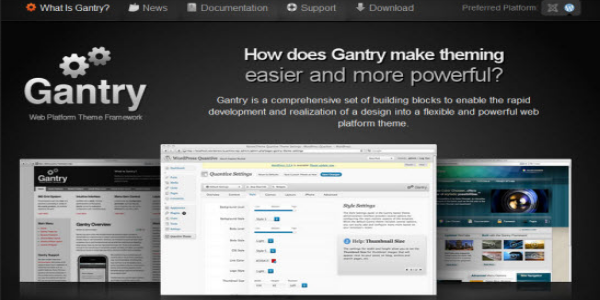 Embrace the design of your WordPress theme with Gantry WordPress theme Framework. It was created by the professionals of RocketTheme with an aim to combine multiple features and functionalities that can help you create technically-robust theme for your WordPress site. The framework is based on a responsive grid system that makes your theme compatible with  different devices and mobile platforms. Plus, it supports CSS, SCSS, and LESS to help you complex websites in minutes. Let's take a loot at some of its advanced features:
Visual Menu Editor
Layout Manager
User-friendly Admin Interface
Mega Menu Support
Off-canvas panel
Twig Templating System, and a lot more.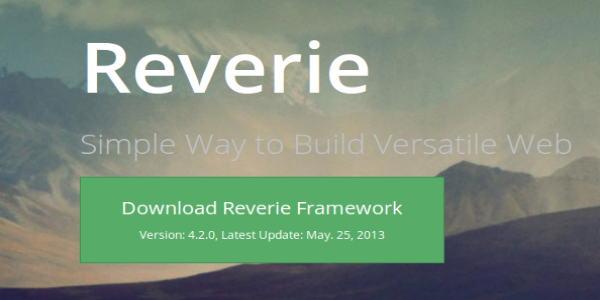 Reverie is an adaptable HTML5 WordPress theme framework, especially designed for creating CMSs, blogs, online brochures, etc. It is based on ZURB's Foundation and grasps all its features. It allows people to build visually-appealing websites, without any coding or programming skills. With the help of this framework, you can take the design of your site to the next level in no time. Here are some of the best features of Reverie:
100% Responsive
SEO – Optimized
Developed with HTML5 and hNews microformat  to provide simple and clear structure to enhance the readability of a site.
It comes with 2 widget areas and 2 custom menus.
Supports Scss and customary CSS, etc.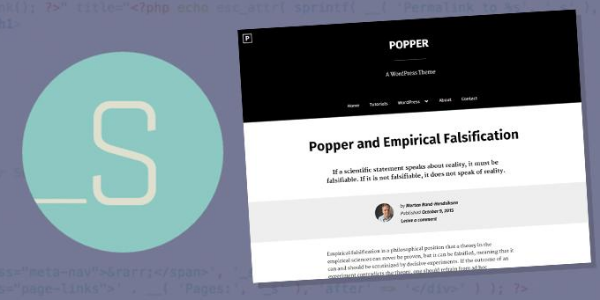 Creating underscores based themes become super easy with this beautiful WordPress theme framework. Although it is a framework for building WordPress themes, some experts consider it as a starter theme. The framework lets you build technically-sophisticated, advanced, well-commented and beautiful HTML5 templates, without any heavy lifting. Plus, it offers a bunch of useful features including:
It comes with custom template tags
Two sample CSS layout feature
Pre-defined 404 template
Beautifully-organized CSS, and much more.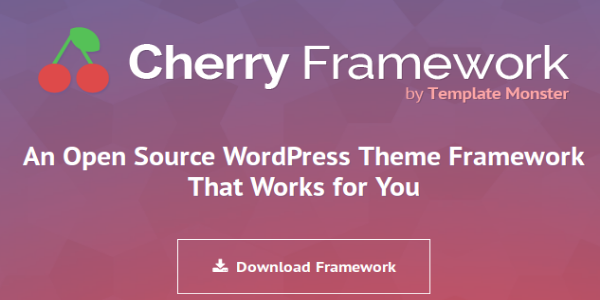 Cherry is a modern, flexible, and powerful WordPress theme framework designed to build impressive themes for  WordPress sites. The framework has recently released its latest version, 4.0 that has received a lot of appreciations from professional web developers, designers, coders, and programmers. Cherry 4.0 framework enables you to turn off all irrelevant options so that you can concentrate on building a quality website, without any distraction. Some of the stunning features of this framework including:
Fully responsive
Compatible with robust plugins/extensions
Theme Settings backup (makes it easy to backup theme setting options)
WPML Ready
It offers a set of powerful shortcodes
GPL compliant (It means you are free to use the way you want), etc.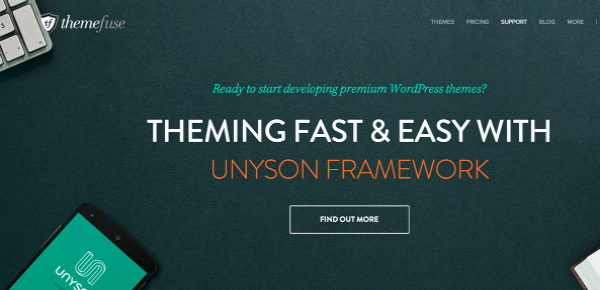 Unyson is a simple yet fully-functional WordPress framework that simplifies the web development process for both web developers and site owners. It is stuffed with tons of customization options to help you customize the front-end of a site in minutes. There is also a live preview option to let you check all the changes in real time via the admin panel. Take a look at some of its impressive options.
Drag and drop page builder
Breadcrumb extension
It comes with sidebar modules
It offers over 20 option types, and a lot more.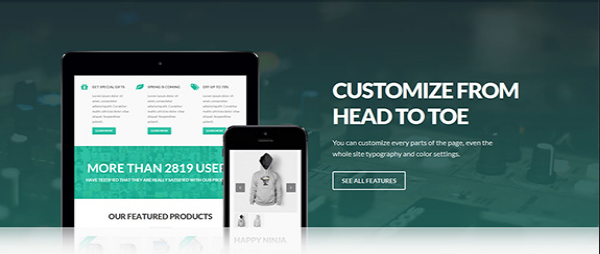 If you are a WordPress beginner and you are looking for a tool to build responsive, scalable and beautiful theme(s), without any coding, then VafPress is a great solution for you. It offers a complete suite of tools that will help you create the backend of your WP theme at the drop of a hat. You just need to download, install and activate the framework and it will help you create and customize the design of your site without any prior technical knowledge.
Features of VafPress:
Theme Options Builder
Metabox Builder
Script Load Management
It offers multiple fields, etc.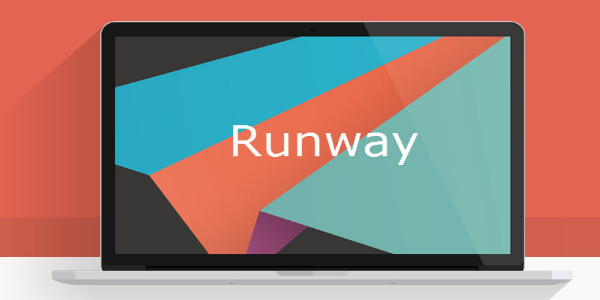 Runway is a free, open-source WordPres framework that allows non-tech savvy users to develop a technically-sophisticated theme with ease. The framework lets customize the functionality of your themes- all thanks to its advanced features, including:
It comes with Theme Options Builder that allows you create and customize different types of themes in minutes.
Child Theme Generator to let you build, modify and clone themes. When it comes to customization options, you can tweak the name, descriptions, folders and other aspects of your themes quickly and efficiently.
Modular Structure lets you supply the framework by embedding  additional functions using robust extensions.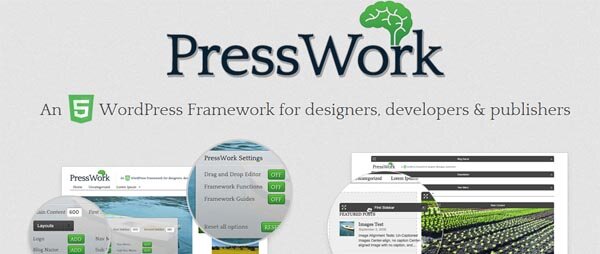 PressWork is the last WordPress theme framework in our list that lets you create robust and well-commented themes without ever getting your hands dirty in coding. It is an ideal solution for all WordPress users, be it a developer, designer, programmer, business owner, publisher, etc.
Features of PressWork
Media Queries
Front-end Editor
PSD file
Life time support guaranteed.
Conclusion
There are the top 10 Open Source WordPress Theme Frameworks that will help you create striking, well-designed and technically-powerful themes for WordPress site with ease. The blog post will help you make the right decision while opting for the best option for your first or next web project.