Five Common Issues to Consider While Creating an Email for Your Business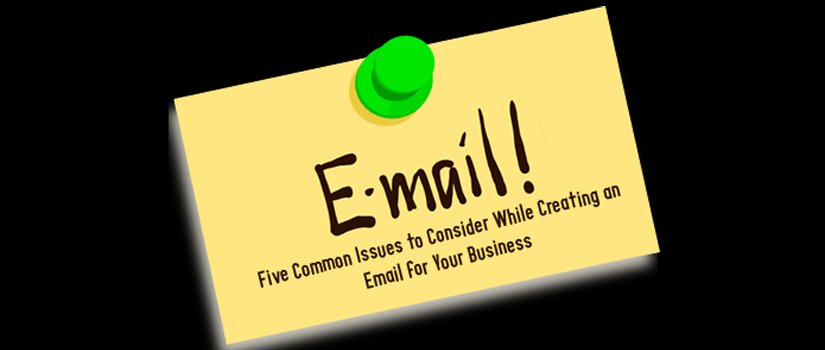 In this technological scenario, different scales, and spheres of businesses are leveraging new-age marketing tools and technologies to reach a large number of people across the globe. Business owners always look for the platform from where they can convey their message and goals to their potential customers and clients.
With the help of attractive and compelling emails, you can deliver your message effectively to your clients. For best results, make sure that you write your business proposal emails in a clear and concise way so that your client understand the purpose instantly. In fact, the content and other business details that you incorporate in your email should encourage your clients to avail your service(s).
Although an email marketing campaign can help you get positive results, there are some common issues that needs to be considered while creating an email for business purposes. Here is the list of five common issues that come into existence while creating email proposals for your business.
1.

Overlooking the Subject Line
The subject line is one of the significant parts of your email that gives a clear idea about the content written below in the email body. If your subject line looks abrupt or incomplete, then this may degrade the interest of the client to open or click on your email.
To overcome this issue, you need to write engaging, captivating, and informative subject line that can convey message instantly to the reader. So, create short and crispy subject line (it can be 40 characters long) to give a quick brief about your business proposal. It should leave a great impression on client's mind.
2. 

Forget to Preview the Email Before Sending
Most of the email inboxes (such as Gmail inbox ) comes with an email preview option that lets you identify the overall look of the email content in advance. If there is an error in the preview, you can correct it immediately before sending the email to the client.
3.

Inconsistency
If you want your client to read your email proposals, then always maintain the consistency of your email content. Try to focus on the subject line while writing business-oriented email content for your clients. Make sure that your subject line is justified with the email content – as this won't distract your clients from the subject.
4.

Absence of Email Segmentation
If you are not getting success even after sending catchy and informative emails to your clients, you need to look back to the segmentation of your emails. It is one of the crucial factors that can make or break your email marketing efforts.
Segmentation of emails is basically done based on gender, age, name, location, and past history. It enables people to filter the emails as per their subjects and access to their respective folders only. So, make sure you follow the predefined segmentation of your e-mails before sending it to your clients.
5.

Sending Time of an Email
Time plays a crucial role when it comes to sending the business-centric email to the client. So, try to send the email during the working hours of your client – when he/she remains online. Also, send email on time in order to get instant feedback from him/her.
Conclusion
If you want to grow your business, you need to creatively write email proposals for your clients. So, try to pay attention to all those issues and achieve your business goals by implementing robust email marketing strategy for better visibility and revenues.