Top 5 WordPress Grid Plugins For Creating Sharp Site
The usage of new-age mobile devices for browsing the internet or website has shown a tremendous growth over the last few years. According to a statistic, over 35 percent of all traffic on the web comes from mobile phones. This means creating a mobile-optimized website becomes a necessity for every website owner and web designer.
However, web designers are aware of this trend, and they are creating responsive design site that can run smoothly on different mobile devices and screen sizes. The use of grids also becomes vital while creating the mobile-optimized website. With the right selection of the grid plugin, you can create a well-organized website that looks equally clean and beautiful on different mobile devices.
In this blog post, we will light upon the five best WordPress grid plugins to help you create a clean, visually appealing and crisp site for both your desktop as well as mobile visitors. These plugins help you insert multiple grid layouts to your web page that you can use to display content and image galleries in an engaging style.
So, let's get started!
Content Views is an incredible grid plugin for WordPress. It showcases latest posts in grid layout, without even generating a single line of coding.
With the help of this plugin, you can display your most recent content in a responsive and well-organized layout, or as a scrollable or collapsible list. If you creating a portfolio or photography based site, then Content Views is an ideal solution for you.
Features:
Show off content or posts by tag, category, author, keyword, status, or ID
Use shortcodes to display all kinds of posts within grids.
Preview to see your posted content, without leaving the configuration screen.
Choose which fields or meta-data will be displayed to readers.

The WP Ultimate Post Grid is a feature-rich plugin for WordPress that offers you the advanced range of solutions for displaying your content in a well- organized format.
Although the plugin doesn't offer too many features, you can use it to create sharp, intuitive and crisp gird-based websites in minutes. In short, WP Ultimate Grid plugin formats your posts into responsive grids in minutes.
Features:
Add multiple default styles such as the classic grid, boxes with hover animations, etc.
Create different grids and opt for the one you want to insert within your web page.
Use category filters to filter out the published content, etc.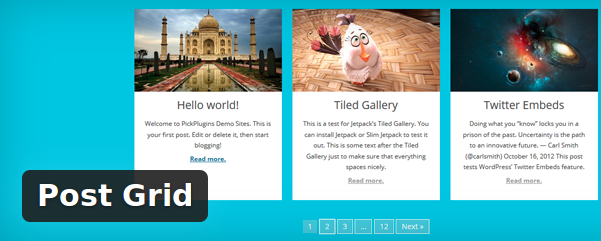 Post Grid is a pretty decent plugin for WordPress that allows users to add multiple grids within their web page to display the content as well as image galleries in a creative way.
It is a fully-responsive plugin that comes with various default grid styles that you can use if you don't want to create a design from scratch. You will also get the variety of default grid configurations which support multiple types of WP content.
Features:
Manually customize the shape, height, and width of your grids.
Social media integration
Merge multiple post types within a single grid with ease.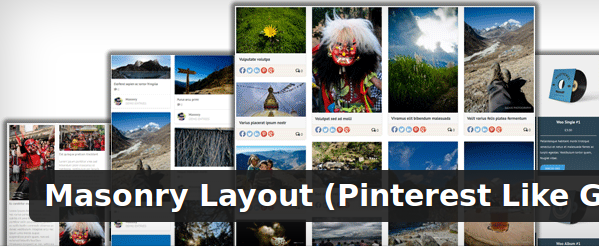 Masonry Layout helps you create simple and clean grids – just like Pinterest's grid style. It is the only plugin that has introduced the straightforward grid style to the WordPress site.
With this plugin, you can showcase your posts, online products, galleries, etc in the most engaging style. You can create grids to showcase any kind of content on your site using shortcodes.
Features:
Set specific categories for you grids – this allows your visitors to easily search via your archives.
Ajax-enabled 'Load More' button
Support custom taxonomy
Enable/Disable responsive, etc.

If you have a photography based or portfolio site, then this plugin can be ideal for you. While our previous plugins focused on displaying different types of content, the Gallery Final Tiles Grid is all about showcasing image galleries in the simple grid layouts.
The plugin comes with the simple and intuitive interface that lets you design and customize the design and functionality of the plugin in minutes. Plus, it uses an algorithm to determine the actual size of the display for each image on a grid.
Features:
Resize all galleries using seamless animations while the display resolution is modified.
Comprehensive documentation
Mobile-optimized grid layouts, etc.
Conclusion
All the grid plugins mentioned above in this blog post are free, reliable and fully functional. You can download the plugin from the WordPress Plugin Repository at free of cost.