Tips and Tricks to convert PSD Designs into HTML email Templates
In this technical world, it is very essential to have an effective means of communication in small or big industries, companies, or organizations. There are various means of communicating with people, the HTML newsletters and the emails being of the most common means. An effective communication is very necessary in order to maintain a long lasting and a healthy relationship with the customers. They are used either to share information or for promoting their products.  Therefore, the business enterprises are looking for expert service providers to convert efficient the PSD Designs to HTML email templates.
One of the most convenient and systematic means of communication is the email to reach to your customers. In today's world, the PSD to email conversion is the fastest growing means of communication. It is used by many companies and is therefore a great idea to present your customers with attractive email designs and make a good impression.
The HTML email templates are much more attractive than the normal plain text because these are very attractive, creative and interact with the readers. However, there is a need for developing a code to convert an email design into an HTML email template. So, it is quite challenging because it requires special efforts to code a design into an HTML email template which is compatible to various desktop email tools and email marketing platforms. Here are a few guidelines which will help you in converting your PSD designs to HTML email templates:
You have to keep the email simple and focus more on the writing and content part rather than the design. This is one of the most essential things to be kept in mind while converting.
It is highly recommended for the use of an accurate code for the location of the image and preventing the upload of the images to a password secure server, the free hosting server, and the security server which is slow.
The mail services like Yahoo and Gmail prevent the overriding of codes and have a capability to strip this threat.
The use of layouts of a table is regarded as the best practice and you can also introduce many special effects.
The inline CSS will help you to control the fonts and the background color.
It is recommended to employ the individual properties instead of the use of shorthands.
You can use more content and less images and thereby place safe, and avoid the sloppy codes from preventing from being arrested by various spam filters.
Both Gmail and Yahoo do not support the CSS which is provided in your email, therefore, CSS does not work in the browser servers as it may override CSS which is included in other pages.
If you are a self coder then you will not take so much time in order to convert PSD into HTML email template. But, if you don't know about PSD to HTML conversion and do not want to use the software in order to keep the sanity of email alive, here is the list of best service providers who can convert your PSD into HTML email template within short span of time.
They have an experienced team of professional developers in order to give you hand-coded PSD to HTML email conversion services at reasonable prices. MarkupBox is one of the most popular providers which provide beautiful PSD files to pixel perfect HTML, with cross-browser compatibility and W3C validation in each project.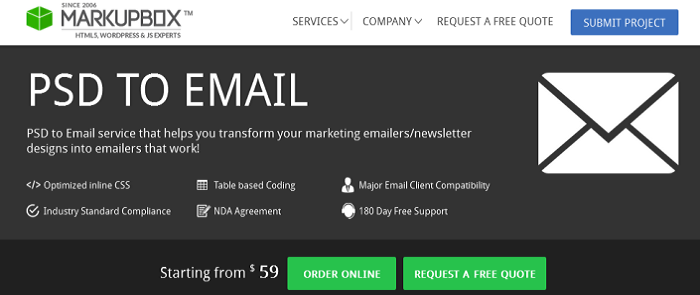 They provide amazing markup services with compatibility across all the major email applications and email clients.
If you want to get PSD Designs into HTML email Templates or newsletters, then you must hire PSDSlicing. They can create high quality, clean, elegant and W3C compatible markup.
They have an expert team who design newsletter and convert into compatible HTML newsletters.
They provide a template implementation, theming, designing and design into HTML email template services.
I hope these tricks will help you to convert PSD Designs into HTML email Templates.