Top 10 Best Web Application Firewall (WAF) Providers
Web Application Firewalls (WAF) are created to scrutinize HTTP requests to web applications and block malicious traffic. In this way, webmasters protect them and thwart different types of online security breaches, such as abuses of the HTTP protocol, directory traversal, denial-of-service attacks, SQL injection, cross-site scripting, request forgeries, misuse of valid authorization, etc.
It was originally created as physical appliances in the enterprise data center. But, these days, WAFs are available in the forms of a dedicated module within Application Delivery Controllers, cloud-based services (with a CDN), and virtual appliances.
The WAF market is increasing by leaps and bounds with each passing day and there are various options available in the market. So, most of the people get confused when it comes to the selection of the best WAF service provider. In order to ease your work, we have compiled a list of top 10 best Web Application Firewall providers: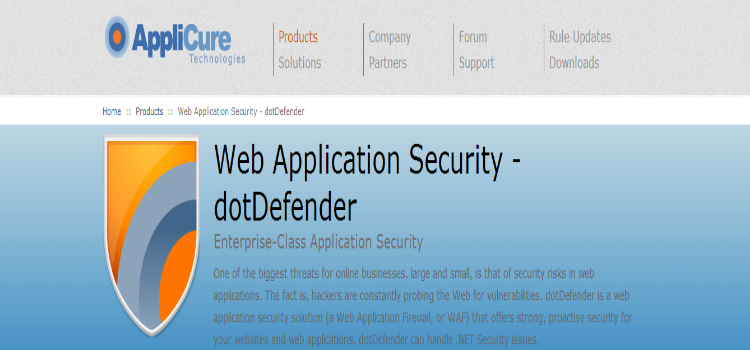 DotDefender is an enterprise-class, application-layer firewall using which you can easily protect websites and web applications against multiple security breaches. It offers IIS and Apache server security across cloud, VPS and, dedicated environments to deter cyber attacks.
You can protect your site's server 24*7 using this firewall. It closely monitors almost all layers, like SOAP, XML-RPC, HTTPS, HTTP, and notifies you about suspicious activities happening around your site. Comprehensive protection and ease of use have made it popular among the needy people, but its main shortcoming is that AppliCure does not offer many customer service options.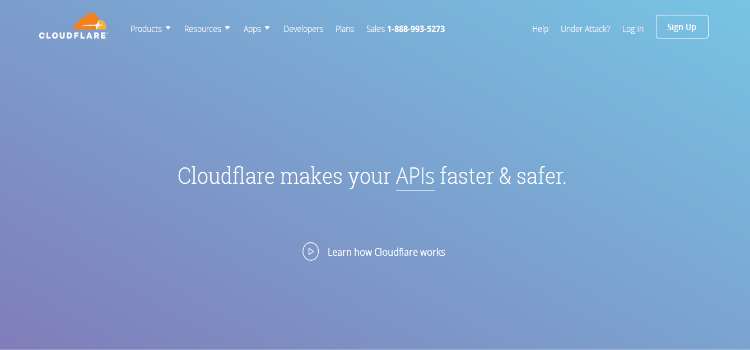 CloudFlare is a leading American company which provides website security and performance service to millions of needy people across the world. It provides a number of security options against cross site scripting, SQL injection, and spammers. It also helps you to improve the loading speed of your site by offering a global CDN and content caching system.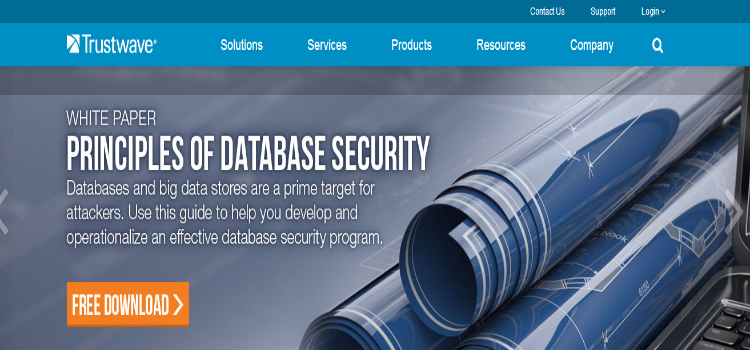 Trustwave offers the Internet security for all types of web applications. It also provides SSL certificates using which you can make your site safe to be used by visitors for a number of purposes, such as downloading of online products, making financial transactions, etc. You can install Trustwave's physical or virtual on-premise Web Application Firewall appliance in inline or out-of-line mode and can protect your web applications against all types of online security threats and vulnerabilities.
It also allows you to monitor applications, track suspicious activists around your applications and address PCI compliance requirements easily and quickly. It offers virtual patching facility to safeguard web applications from online security risks without waiting for the upcoming release of the software.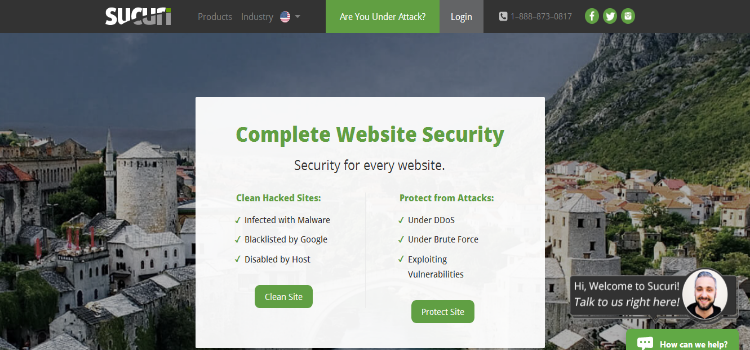 The demand of Sucuri is skyrocketing as website owners want to maintain the integrity of their sites at all costs and concentrate their attention on the main aspects of their web-based businesses. When you use this software, it helps you in many ways, such as checking search engine and antivirus software blacklists, cleaning up your site if it has been hacked, eliminating the malware traffic and altering you about the suspicious activities around your site.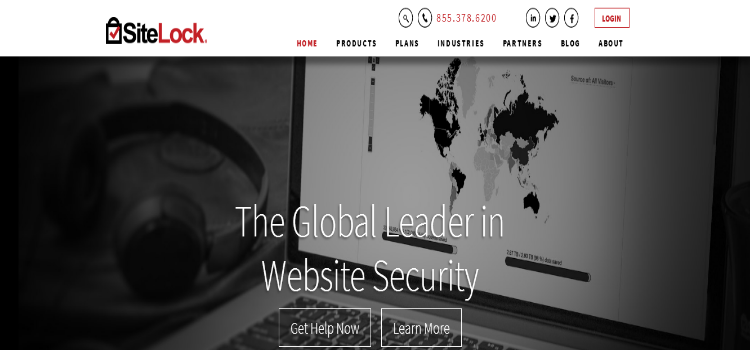 SiteLock offers you an advanced level of protection to your site and web applications. It evaluates your website traffic on the basis of their behavior, IP reputation, location and the type of information they demand. Finally, it takes decision who can visit your website ultimately.
It automatically blocks malicious bots from accessing your site and keeps your website/web applications safe and sound. They lockdown your website database, which makes it difficult for cyber criminals to hack your site. It is the best WAF for you if run your website with WordPress. It also helps you in website design, enabling you to make it hacker-proof right from the beginning.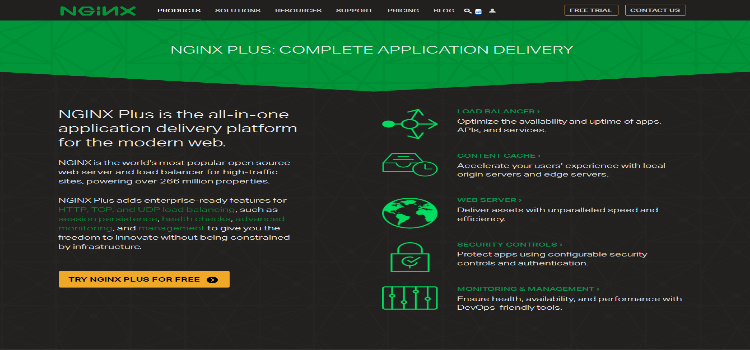 NGINX Plus is the basis of the modern web. When you use this WAF, you can ensure your site's security against all types of online security vulnerabilities. Apart from this, it also helps you in monitoring activities around your site, combining load balancing, web serving, and content caching. You can ensure the flawless performance for your site using this WAF.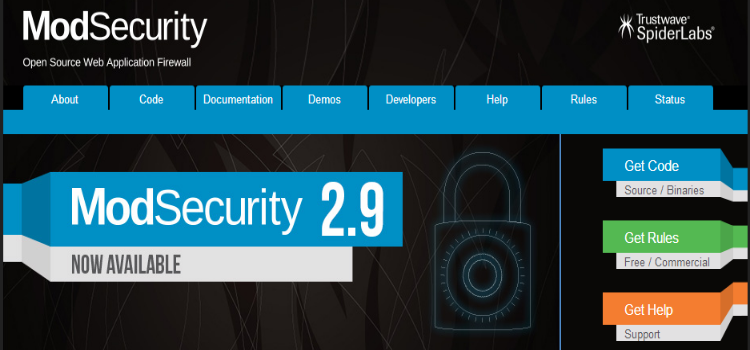 ModSecurity is also a very popular WAF, which supports Nginx, Microsoft IIS, HTTP, and Apache. It protects your site against different online security challenges, such as common web attacks, malicious activity, SQL injection, Information leakage, Trojan, Cross-site scripting, etc. but, it doesn't have a graphical interface.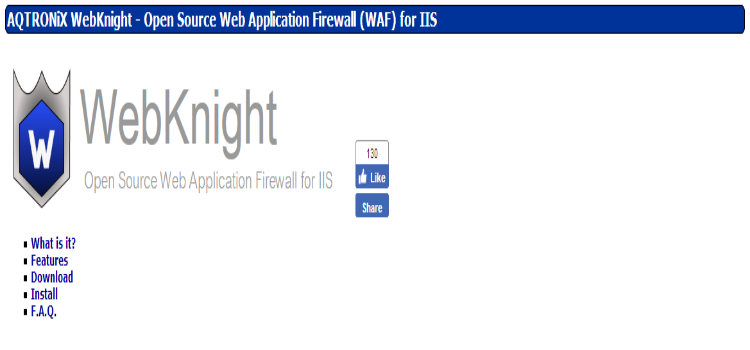 WebKnight is an appropriate WAF for Microsoft IIS. It is actually an ISAPI filter that protects your site's server against malicious traffic. It keeps your website safe from Buffer overflow, Directory transversal, Character encoding, SQL injection, Blocking bad robots, Hotlinking, Brute force, etc. If you use its default configuration, you will be able to sign-in all blocked requests and set them as per your requirements.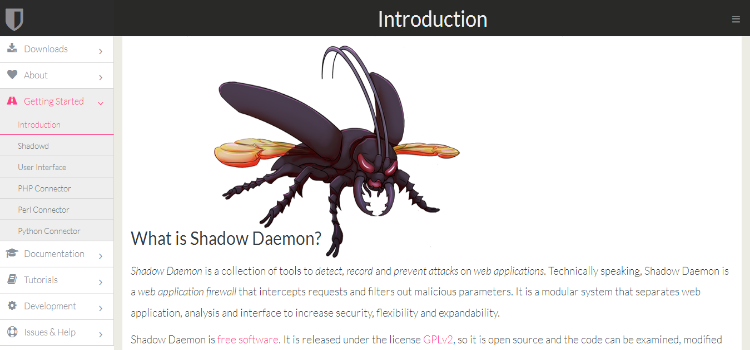 Shadow Daemon track, filter and stop various types of web attacks on your website and web applications. It has its own interface, which allows you to perform administrative tasks easily and manage your web applications without facing any difficulty. It supports PHP, Perl & Python language framework and can track different types of attacks on your website, such as Local/remote file inclusion, Backdoor access, XSS, Command injection, Code injection, XML injection and SQL injection.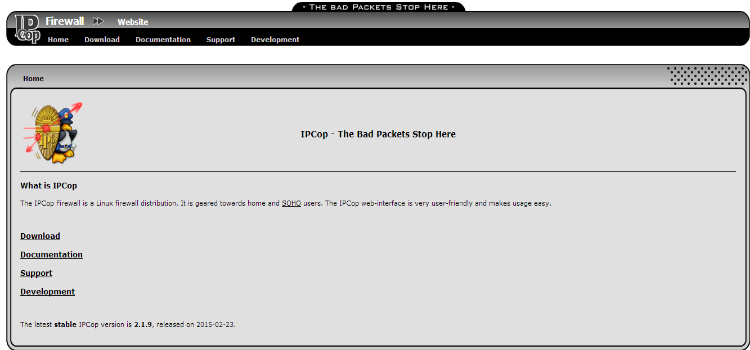 IPCop is a simple Linux distribution with which you can easily take care of firewall appliance based on PC hardware. It has an update mechanism, which helps you to install the security updates whenever you need. You can download add-ons for IPCop (such as Cop Filter, Advance Proxy, Update Accelerator, URL Filter, Calamaris, BOT (Blockout Traffic), Zerina) and protect your web applications against all types of online security threats.
Final Words:
These are top 10 web application firewall providers. Evaluate your needs and budget & pick any of them to protect your website or web applications.