Top 10 Rated Magento Development Companies for 2018
Magento is one of the most reckoned e-commerce platforms on the web. It empowers business owners/merchants/retailers to create and customize a professional-looking online store by using its advanced tools, themes, and plugins. With the help of its beautiful themes, you can tweak the overall look and feel of your site according to your needs.
Undoubtedly, Magento is a flexible, User-friendly and fully-customizable eCommerce solution that helps build a beautiful and powerful online store in minutes. But it is always better to hire an experienced Magento development company that can offer you quality Magento development service at an affordable price.
They can help you by creating a world class eCommerce website that lets you generate leads with ease. Such firms equipped with the team of professional designer and developer who work together to offer their client the top-notch Magento development services.
In this blog post, we will review the 10 top-rated Magento development companies for 2018 that you can choose for your next eCommerce project.
1.    MarkupHQ
MarkupHQ rules the Magento development industry because of advanced services and on-time delivery of projects. The Company is backed with experienced team of designers and developers who help you provide the quality Magento site in a give time span.
You can hire the MarkupHQ solutions if you want to create a unique and interactive eCommerce site for your business at an affordable price.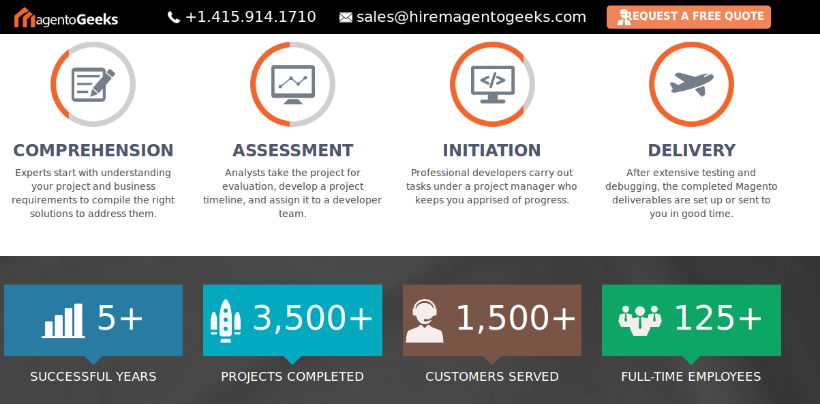 HireMagentoGeeks is a leading Magento development service provider that aims for creating beautiful and fully-functional eCommerce site according to specific needs. The Company is launched with an objective to create responsive and visually appealing Magento web designs for their clients.
Mobecls is a Magento Development company with a new approach to coding standards. The company offers business-oriented development process. It means that the team analyzes the impact of changes in all aspects of an online store work. Mobecls pays attention to UX, SEO, internal online store operations, website speed, server and Magento performance. The company has developers, QA, marketers, managers and SEO specialists to provide effective customizations and improvements.
Mobecls offers:
Magento store technical support (customization, performance optimization, extensions conflicts resolving, template customization);
Server support (configuration, soft installation and performance optimization);
AI algorithms development;
SEO support;
Android/iOS app development for ecommerce.
Reach Digital is a design and development agency for e-commerce, specialized in building on the Magento platform. They build high performance webshops, custom business intelligence and ERP/CRM connectors for Dutch clients like DA, VANMOOF and OppoSuits.
Adopting new technology fast, they've been able to develop Magento subscription based e-commerce for Adyen and VANMOOF+.
In 2013 Reach Digital was a pioneer in delivering really a robust responsive e-commerce user experience. Since 2018, they are one of the first to adopt PWA technology and deliver a truly native mobile like shopping experience.
Huemor Designs is a first-rate web development company that has successfully offered the quality Magento development services at the most reasonable price.
The company is backed by a team of professional developers and advanced Magento development techniques to help you deliver the customized service according to your needs.
You can opt for this Company when you are serious about your brand image and unique ideology across the web marketplace.
6.    Dotcomweavers
Dotcomweavers is a renowned Magento development company offering a wide-range of eCommerce solution services to their clients. They are expert in crafting highly-interactive and professional looking eCommerce sites that can uplift the standard of your business to the next level.
7.    Rave Infosys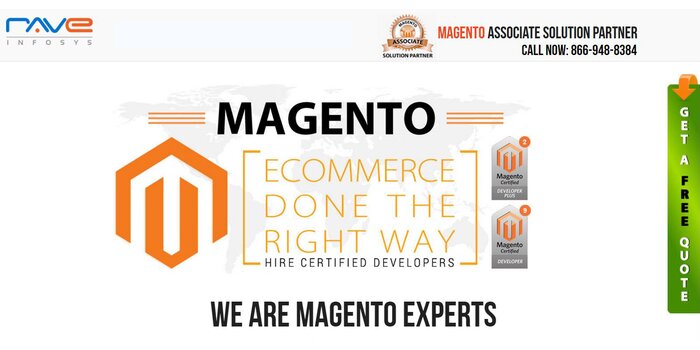 Rave Infosys is a leading Magento development company that specializes in creating responsive, interactive, secure and feature-rich eCommerce websites for all scales and sizes of businesses. They offer a whole gamut of Magento solutions including responsive & cross-browser compatible sites, fraud management, multi-channel shopping cart functionality (including amazon and eBay), POS integrations, ERP integration, multiple warehouse management/WMS integration, shipping solutions, retention techniques, Magento extension development services and a lot more at the most competitive price. They have a dedicated team of certified Magento experts.
8.    Cadre
Cadre is a one –stop solution for the Magento designing and development projects. The Company believes in delivering quality services that can help their clients generate business leads quickly and efficiently.
They know the importance of brand and thus offer the top-notch Magento development solutions at the most reliable cost.
9.    EIGHT25MEDIA
EIGHT25MEDIA is an award-winning web development firm that offers world-class Magento development services to their clients and customers.
The Company's team is known for its creative approach. They create captivating content and intriguing templates to elevate the overall look and feel of an eCommerce site to the higher level.
10.    Old City Press
The Old City Press is also a reputed Magento Development Company who offers the high-quality of services at the most reasonable price to their clients.
The process of building an Ecommerce site of Old City Press is unique – they first listen to their clients and then convert their ideas into the Magento web design.
Conclusion
That's all.
These are the 10 top-rated Magento development service providers on the web. They work with dedication and enthusiasm to provide you the World's best online service at the most reasonable price.