5 Best Free WordPress Plugins for mobile
Building mobile-friendly websites is a great idea if you want to drive more and more visitors towards your site. Today, the vast majority of people are making the use of smartphones to surf the internet and to browse websites. So, if you want to reach the mobile visitors, you need to optimize the web version of your WordPress website for multiple mobile devices –make it compatible.
To make your job easier, we bring you the list of top 5 Free WordPress plugins that will make your site mobile-ready quickly and efficiently.
1. WPtouch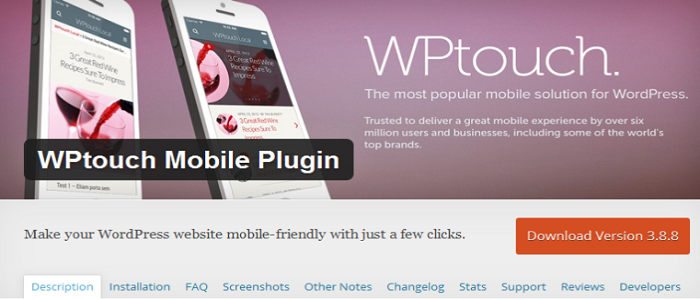 WPtouch is an awe-inspiring free WordPress plugin that automatically converts your WP site for cutting-edge mobile devices. It adds a simple and eye-catching mobile theme for mobile visitors to your website.
The plugin allows you to quickly enable a mobile-oriented version of your site that qualifies the Google Mobile and SEO test. With the help of this plugin, you can make a mobile version of your website that will look brilliant on multiple mobile devices such as iPhone, Android, iPod touch, Blackberry and more.
To an addition, WP touch's admin panel allows you to customize its appearance and provides a faster, user-centric and beautiful mobile-friendly version, without generating a single bit of code.
Benefits of WP touch plugin are:
Easily set up web-applications for iOS
Load pages faster than desktop or responsive themes
Comes with 3 inbuilt themes that you can customize as well
Utilizes the content on the same URL from the same server for the mobile page.
2. WP Mobile Edition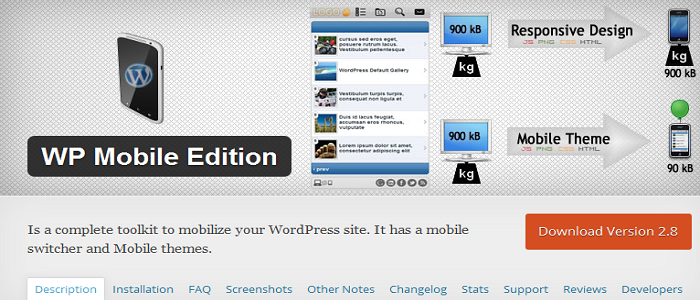 WP Mobile Edition is an incredible plugin for WordPress that allows you to make your website mobile-ready. It is completely optimized for the best performance on smartphones, such as Android, iOS, and Windows phone. It offers a user-friendly setting page that enables you to customize the plugin according to your needs.
It is packed with advanced features such as mobile switcher, mobile XML Sitemap Generator, and intriguing themes that can help you mobilize your WordPress website easily and quickly.
Benefits of WP Mobile Edition:
It comes with mobile switcher that automatically discovers whether the visitor on to the site is on mobile or not, and switches between the primary WP theme and loading a mobile theme.
Allows the visitor to switch between the mobile view and a website's regular theme.
Creates a mobile XML sitemap with an objective to enhance the mobile version in mobile search engine pages such as Google, Yahoo, Bing and more.
It rescales the images, split the articles and post into different pages, and trashes non-supported media.
Ease of customization
Integrated with a mobile add, so that you can place any ads script (such as Adsense, or admob) and it will start displaying on your mobile version.
3. Mobile Smart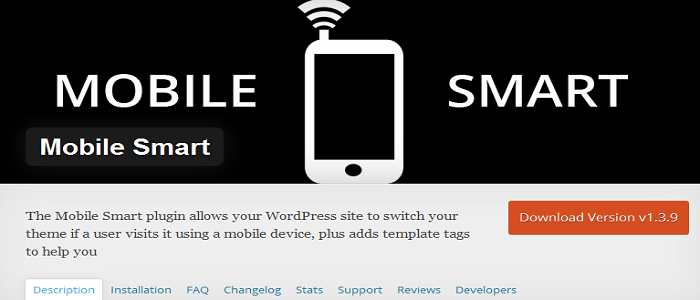 Mobile Smart is a great WordPress plugin that enables your website to switch its theme if a visitor is accessing a website from their mobile phone. It allows you to choose a design to showcase from your existing themes whenever a visitor accesses your site from their phone.
In fact, it empowers you to show off a footer link, enabling users to manually access your website's mobile version.
Mobile Smart's Benefits:
Transforms your theme to a mobile-friendly one if the visitor is accessing your site from a mobile device.
Comes with the manual switcher that enables your user to manually switch between desktop and mobile versions.
Inserts device and tier specific CSS selectors to the body_class, to enable conditional CSS.
4. Duda Mobile Website Builder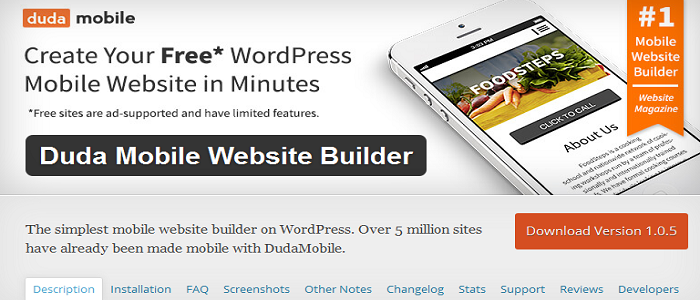 It is a user-friendly plugin that makes it easy to create mobile-ready version of your WordPress website. It offers core functionalities for mobile optimization, but comes with some of the advanced features that you can find in premium versions. It offers loads of mobile templates that you can use to convert your desktop website to the mobile-ready version.
Benefits:
Switches your WordPress site into a mobile-centric version
Developed for all smartphones
Automatically syncs with your desktop website
Comes with free site analytics
Integrated with Google Analytics and AdSense
Zero coding required
5. Jetpack by WordPress.com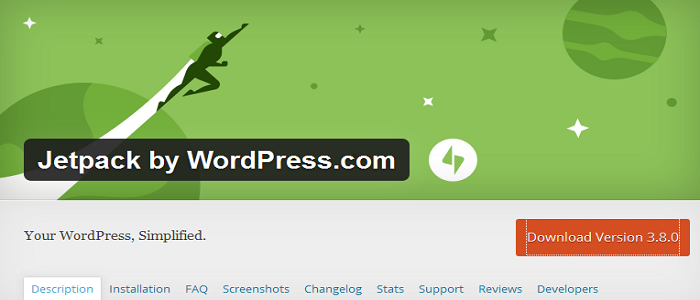 This is an amazing WordPress theme that comes with some of the stunning features and options. Jetpack is the simple, clean and easy to install plugin that allows user to convert their site into a mobile-friendly version, without even writing a single line of code.
Benefits:
It helps you drive more visitors to your site
Strengthen the security of a website
Image optimization
Comes with centralized dashboard
Customize your site, such as Custom CSS, Galleries, Contact forms, etc.
Conclusion
All the plugins that we have discussed above in this blog post are free of cost. That means you can use it freely to create a mobile version of your WordPress website. So, pick out your favorite plugin and make your site accessible for mobile users.